Because you can connect appointments to the integrated To Do List and Memo functions, you can browse related information quickly.
It is also able to sync with Google Calendar, allowing you to continue using the same schedule you always have.
You can make additional "design refill" purchases for each calendar as well, allowing you to use different designs for work calendars and private calendars.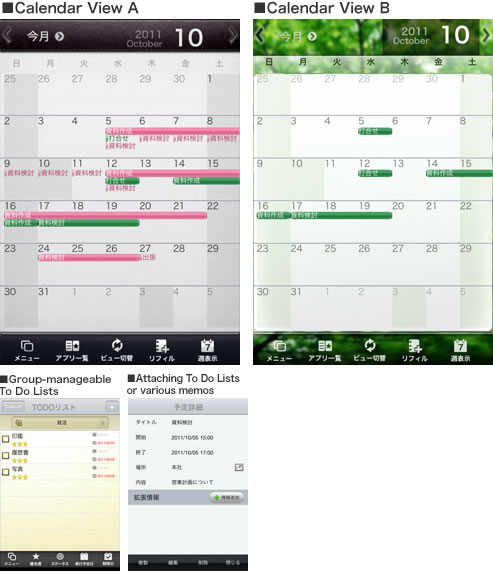 ◆Establish Calendar Groups and individual administrators
You can create several calendars. You can register separate Calendar Groups, allowing you to manage objective-based schedules such as work-use and private-use. You can easily change calendars with a vertical flick.
◆Additional calendar designs and feature purchases
Buy purchasing additional "design refills", you can configure the design of your entire calendar. By configuring calendars established for specific purposes with separate refills, you can tell at a glance which calendar you're using when you switch to it. You can also purchase additional functions such as job-hunting support apps.
◆Synching with Google Calendar
This is equipped to synch with Google Calendar. You can register all "My Calendars" created in Google Calendar within "Schedule Street". The data is shared, so you can create schedules from your computer or the application itself. You can continue to use the same schedule you did before as well, eliminating the need to remake your schedules from scratch.
◆Group-manageable To Do lists
It is equipped with a To Do list function which allows editing by entire group.
It is possible to sort by order of precedence or time frame.
You can create "execution dates" to prevent missed deadlines.

◆Attaching To Do lists or various memos to your schedule
You can append To Do lists or various memos (texts/photos/voice memos) into your appointments. You can use them in various ways: attach a whiteboard photo you took after a "meeting" appointment; attach necessary preparation items after a "customer visit" as a To Do list; attach suddenly remembered details related to your plans as a "voice memo"; and many others.
- DATA
App Name

Schedule St.
Price
Free
Supported OS
OS 3.1.12 and above
※Formatted for iOS 5
Compatible Devices
For tested models, please refer to the App Store product page.
Genre
Productivity